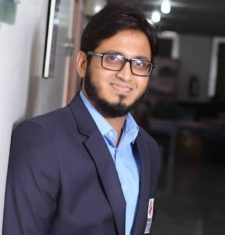 Usman Moon, ACA (Late)
Founder and First President of ILM Society
Founder and First President of ILM Society
+973.6636.1121
ILM was founded in 2010 with the objective of supporting the education necessities of deprived children in Pakistan. ILM society is the brainchild of Mr. Usman Moon (Late), who not only laid the first brick of this society but also helped us in getting to where we stand today.  He ensured the achievement of our mission statement in true spirits, both implicitly and explicitly.
Usman Moon, along with a group of friends started this journey by supporting the education needs of merely a couple of students. Since then, we never looked back. To date, we have established 3 modern schools along with scholarship disbursements to more than 350 deserving students over the past 7 years.
Muhammad Usman a self-made man with kind heart who reached such heights at his young age which everyone desires to achieve. The person who brought the idea of spreading education among underprivileged children's who has no means of financial support, the whole idea came into picture in the form of
"ILM society" (Illuminating through literacy movement) which is not just a school but actually a result of his continuous efforts, his strong commitment and devotion. He was a founder of ("ILM"). Now its our time to stand together for the cause and carryforward the unfinished work he has left for us.
"He is no longer belong to us he belongs to ages."
Usman was not only a perfect son, great husband, and a wonderful father but also a devoted friend and mentors for many. The person with successful academic records and professional life was the role model for many in every aspect of life. Usman was a true believer in equal opportunities for everyone and he knows that the right education only can provide opportunity.
The person who use to bring smiles on many faces has left us all alone among his beautiful memories with uncountable tears and wounds that can never be healed.
Professional background
Usman was a Chartered Accountant who qualified in 2010 within his article ship. He started his career with KPMG and remains part of KPMG family until his last breath.
He was highly regarded for his professionalism, technical aptitude and his attitude towards work. He was equally respected by seniors, juniors and his peers due to his pleasant personality attributes.
Life as Philanthropist
Coming from a humble background, Usman always knew the real worth of constructive education and how it can revolutionize individuals and society. He carried the dream of spreading education to all corners of the country and then beyond to make it accessible to every child irrespective of his financial status, religion, ethnicity, locality or any other thing.
He made his commitment a reality by establishing ILM (Illuminating through Literacy Movement) Society soon after he became Chartered Accountant in 2010. Since then ILM and Usman have never looked back. He was joined by his close friends and supported by his family and the caravan got bigger with every milestone the ILM team achieved in his journey.
Usman have a belive that to give a real serivce you must add something which cannot be bought or measure with money, and that is sincerity and integirty.
Below is a brief timeline of legacy which shows how much he achieved in such a short period through his commitment and dedication for the cause.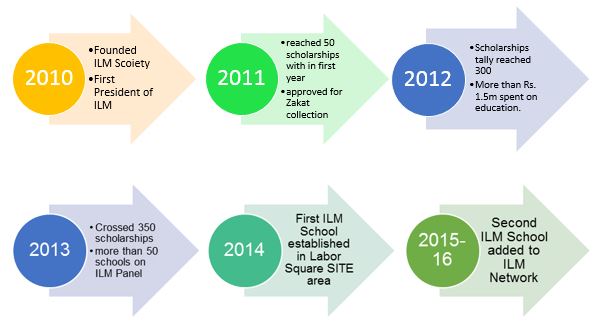 We at ILM society proud that we had been part of his team and were able to share his sincere endeavours and unflaggering committed. Also, we are advancing our convictions towards betterment of our society through education and taking forward Usman's mission.
Usman had also served as President of ILM Society from October 2010 to October 2011. As a President, Usman Moon made commendable contributions in the growth of ILM since its inception and played a vital role in transforming the idea of ILM Society into a successful non-profit organization with the support of Board of Trustees and enthusiastic Management Team. He made state-of-the-art infrastructure for ILM Society's current as well as future operations and ILM Society successfully provided support to 92 deserving students and created donor base from zero to more than 100 committed donors within six months of its operations.
Lastly, we would like to share some of his memorable moments with you in a short video as below;